Characters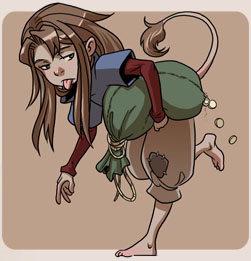 Sette Frummagem
Sette thinks you suck. If you had anything on your sorry carcass worth stealing she'd take it and you'd never know until late at night when you most needed the thing, and couldn't find it, and then realised at the most inopportune moment that you'd been suckered by the best pocket-picker to ever lift lint. 
There's only one person in the world Sette respects and that's her Da. Da has sent her on a mission, a very important mission, but he's not sent her unprepared. Sette's going to make her Da proud and make a lot of money too. Or steal it. Maybe steal it from
you
.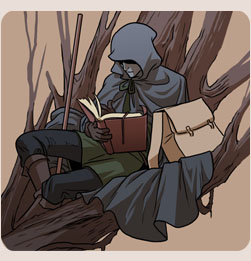 Duane Adelier
An eloquent wright (sorcerer) with an Aldish accent, Duane's resided quietly in a coastal Sharteshanian town for nearly a year, hand-copying legal documents for local legislators and lawmakers. No one knows what brought him to Sharteshane, only that he's never been seen after dark and almost never without a hood over his head. 
Sette keeps calling the fellow a zombie but Sette has a negative name for everyone. Perhaps she's utilizing a metaphor, implying Duane is conformist, dull, or of rapacious appetite. Perhaps your
face
.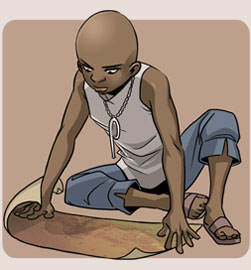 Jivi Flask
Jivi's mother told him once that the only way to get over being afraid is to learn how to well and truly hate. Jivi's certain there must be another way but with the luck he's had since leaving Cresce in search of his fortunes, fate seems like it's setting him up to test out mom's thesis. Since, ya know, he finds himself chained alongside a bunch of cut-up people inside a slavers' cart and everyone smells of poo.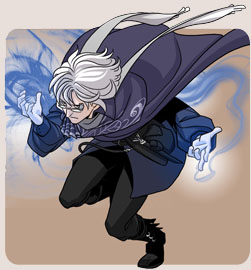 Mathis Quigley
Quigley is an Aldishman and a Plat. Outside of his homeland this makes him both hated and powerful - and he's just fine with that provided people pay their bills. Whether he's jamming a perimeter ward for cat burglars or smuggling slaves for human traffickers, there's little that rouses Quigley's undernourished morality.
Educated and well-equipped, the wright once captured dissidents for the ruling body of Alderode. Now he's a dissident himself - one who wishes he was important enough to warrant even a little bit of the irritation of his old masters. Alas, the protestations of a nobody ring no louder than their complicity.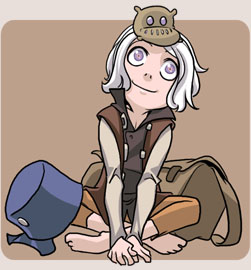 Matty Quigley
Three years ago Matty was struck blind but he still manages to see most silver linings. True, his father does despicable things for despicable men, but Matty gets to live out of a giant hollowed out ogre while he does them. True, it's a horrid world but there's still pie and flute music in it. True, his father hates him but maybe that keeps his father from hating himself too much.
Plats aren't ones to worry overmuch about the future but Matty's certain if he and papa can just get to the coast, the sea will wash their yesterdays away. A history so unwanted is going to be hard on any eight year old-- but did I mention the hollowed-out ogre?